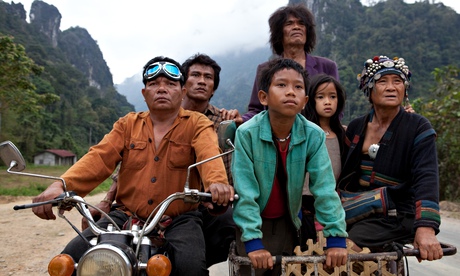 The début feature film from acclaimed documentary filmmaker Kim Mordaunt,
The Rocket
is a disarmingly charming coming-of-age film set in war ravaged Laos. Mordaunt previously made the documentary Bomb Harvest, which followed a bomb disposal expert training a new team to deal with the unexploded bombs from the US's secret war against Cambodia from the 70's still littering the landscape. Obviously Mordaunt has drawn elements of this fictitious story from that film.
According to local lore, when twins are born, one is blessed and one is cursed. Ahlo (played by 10-year old newcomer Sitthiphon Disamoe) is the survivor of twins born to Mali (Alice Keohavong) but his grandmother believes that he is cursed. A number of incidents seem to bear this out - his village is due to be flooded to make way for a new dam; his mother is killed in a freak accident while relocating; he causes his house to be burnt down by angry neighbours. The only people who believe in Ahlo are the young girl Kia (Loungnam Kaosainam) and her uncle (Thep Phogam), who styles himself after the great blues singer James Brown. A bond develops between these outcasts. Ahlo competes in an annual rocket building competition, the winner of which receives money and great respect, hoping to change his family's fortunes.
The film is beautifully filmed on location in Laos by cinematographer Andrew Commis, The Rocket looks superb and provides an engaging insight into this exotic land and its rich culture.
A moving well written tale, well told, with moving performances by all of the mainly amateur cast. An excellent insight to a wonderful country still suffering from the devastation brought about by its proximity to Vietnam. The movies does not descend into sentimentality or the tired over used clichés found in so many of the main stream releases. The child protagonists carry the film along at a pleasing pace and highlight the problems experienced in a battle scared country.
Thankfully he layers the unavoidable political notes with real warmth, humour and character, a quality that clearly benefited from using a mix of professional and non-professional actors. Mordaunt also knows how to use irony without pushing it; as Ahlo aims to prove his worth at a big rocket festival, we're reminded that this is not a political allegory, it's an offbeat, celebratory coming-of-age story about an innocent child set in a politically ravaged country.
The Rocket encompasses beautiful, honourable
and unique sets of attributes that have touched me and I expect will touch audiences around the world. What is remarkable, is that the heart of this story is actually transferable to any community in our world.
It shows its stunning landscape with excellent cinematography and also touches tastefully on some controversial issues, which have been shaping the country in the past and the present. The sensitive storyline includes many layers that give it texture, which makes it such a rich movie and exiting journey for the audience.
Mordaunt does not hesitate to remind of us of the legacy of American bombs dropped during the Vietnam War and still visible in the vegetation, nor does he flinch from depicting the reality of poverty and exploitation.
The acting, especially by the main cast, is very convincing and touching. The two child protagonists are extraordinary.
The casual acting styles of the children were captivating & led to credence all the way through the film. Confronting issues & imagery were simply presented without sentimental or 'fluffy' enhancement. The stories of each character were presented so realistically by apparently unsophisticated actors, with the cinematography displaying facial & scenic imagery so beautifully & again simply, so as to encourage the feel of realism & the documentary style.
I think
Kim Mordaunt's inexperience in feature films is shown, however. The script, although carrying a good story, is definitely rough around the edges. The tale takes its time in forming an ideal structure and there's an awful lot of superflous exposition, which clearly comes from his documentary roots. It feels like it's a couple of rewrites away from meeting its potential.
Despite this, The Rocket is a heart-warming story carried by wonderful performances and excellent cinematography. It's an edgy film which carries some quite dark undertones, yet it is accessible for a family audience - and that has to be rewarded.